About Naomi B. Robbins
Principal at NBR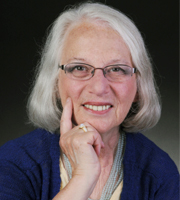 Naomi B. Robbins is the author of Creating More Effective Graphs, published by Chart House (originally published by John Wiley and Sons.) She has spoken on graphs to numerous universities, professional societies, corporations, non-profits, government agencies and organizations such as the United Nations and UNESCO.
To help audiences to avoid graphical mistakes and recognize misleading and deceptive graphs, Naomi blogs for Forbes on effective graphs and writes articles for professional journals and websites to help others improve their data visualizations.
Naomi holds degrees from Bryn Mawr College, Cornell University, and a Ph.D. in mathematical statistics from Columbia University. She is Past-Chair of the Statistical Graphics Section of the American Statistical Association (ASA) and a past president of the New Jersey Chapter of the ASA. The Society of Technical Communications awarded her an Associate Fellow. She had a long career at Bell Laboratories before forming NBR.